Join Remote-First Team that Empowers Your Own Evolution
Working at eSCRIBE is more than just developing a career – it's about developing yourself. Our success is achieved through the talent and hard work of our employees, so we treat them with the same dedication we apply to our customers and industry. We want our staff to have job satisfaction and thrive in a positive work environment.
eSCRIBE is an equal opportunity employer who has recently transitioned to a "remote-first" company who leverages remote working tools in order to maintain its engaged office culture even in a remote world.
The 3F Culture
We didn't write the "3F" mantra; our employees did. In a recent employee survey, these were some of the words staff used most to describe eSCRIBE. In that same survey, employee satisfaction averaged a rating of over 3.8 out of 4, and the likelihood they would recommend eSCRIBE to a friend looking for work scored a perfect 4/4.
Friendly
Our environment is both casual and collaborative, with team members always happy to help each other out. Our lunchroom becomes the local watering hole, with staff often spending their breaks hanging out, catching up, and refueling on company-provided snacks. Most importantly, we recognize each other's contributions to the company, helping give them the acknowledgement and job satisfaction they deserve.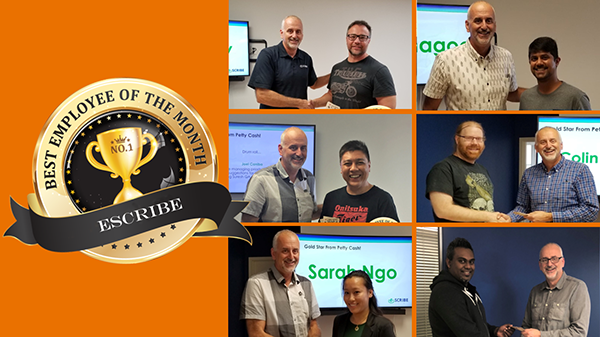 Fun
We're a bunch of driven individuals who like getting things done, and that includes having fun! The company's social committee runs quarterly team-building activities (such as escape rooms and going to Blue Jays games), hosts birthday lunches, and plans events including a Halloween party, kids' and couples' Christmas parties, and much more.
Family/Team
eSCRIBErs are supportive individuals who genuinely care for others in the company. We've witnessed, sometimes been a part of, and supported each other through major personal milestones and life changes. More than just a job, eSCRIBE is like a second family who cares about your career AND what's happening in your life.